Enjoy your time with your loved ones in a private space.
Welcome
Welcome to the website of Kyoto Plaza Hotels Nanki-Shirahama Nagomi-no-Yu ""Kachofugetsu." The hotel has 24 rooms which welcome guests at the top of the Meisen ""Shirahama Onsen"" in Kishu Wakayama.
The hotel does not have a public bath, but rather each room has a semi-open-air hot spring bath that can be enjoyed 24 hours a day, emphasizing the privacy of its guests
The hotel offers local dishes made from local Wakayama produce as well as sincere hospitality so that you can enjoy it along with events produced by the hotel staff.
The area is also close to the scenic spots of Shirahama such as Shirarahama, ""Engetsu Island, Senjojiki and Adventure World, famous for its pandas. It is a tourist destination that that has lots of tings to enjoy throughout all four seasons, whether it be spring, summer, autumn or winter.
We look forward to providing a warm welcome to guests of Nanki Shirahama Nagomi-no-Yu Kachofugetsu.
Manager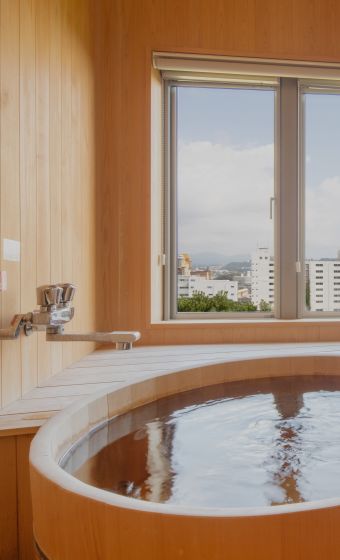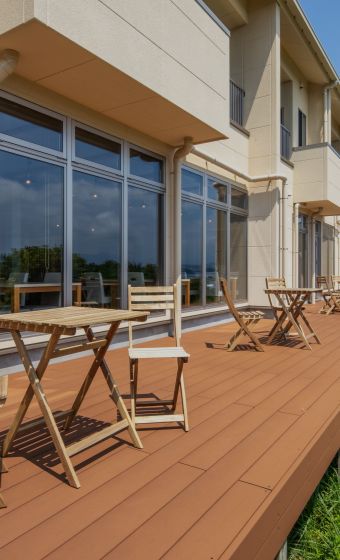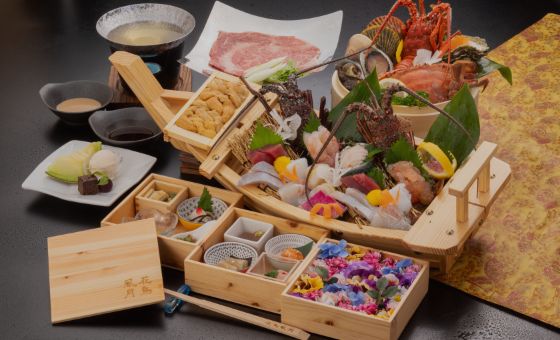 Bath
Each room is equipped with a wooden bathtub, bucket bathtub or ceramic bathtub for guests to enjoy the Meinoyu Shirahama Hot Springs in the privacy of their own room. If you open the window, you can feel the pleasant breeze of Shirahama and and enjoy the atmosphere of a semi-open-air bath. In addition, you can always enjoy new hot spring water that doesn't use a circulating filter.
Cuisine
In the restaurant, you can enjoy "Kishu Kuzushi Kaiseki prepared by head chef ????
Guests will be delighted with superior quality items such as Hana-no-Tamatebako, local raw fish, cooked reef abalone and thick sliced Kmano beef shabu-shabu.
Facilities
The inn is a two-story building made of Kishu wood.
On the ground floor, there is the reception desk, lounge, service corner with drinks, sweets, ice candy, etc., and a restaurant where you can enjoy dinner and breakfast. All rooms are on the second floor.
The ceiling design is based on "passage of time" by architect FYRUYA and representation of the life patterns of the guests who visit the museum in Tosa-Japanese paper.
Enjoy relaxing in Kachofugetsu during your journey of life.